PRODUCT CODE: 9111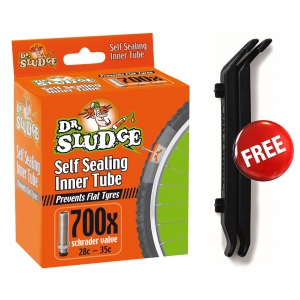 Dr Sludge Self Seal 700C 28-35 Tube Inc. 2 Free Tyre Levers - Schrader
Supplier: Weldtite Tools
Manufacturer Part No: 4019
Unit: Each
Added: 11/8/2017


Stock is not reserved until you submit your order.

Images are for illustration purposes only.

Pro-forma accounts: please call the office with payment details once you submit your order.

Please login to view stock information
On Offer: Buy this Dr Sludge tube and receive 2 free tyre levers included, as well as over 10% off the tube itself!
Dr Sludge Tube
Now pre-filled into inner tubes in the correct dosage
Prevents flat tyres
Seals punctures instantly up to 3mm diameter
Works time after time
Water based with anti corrosion - completely harmless
Inner tube and tyre will not stick together
Will not dry out regardless of outside temperature
Every inner tube is individually tested before leaving the factory
Schrader valve
Nylon Tyre Levers
Glass nylon reinforced tyre levers
Glass fibre adds considerable strength