PRODUCT CODE: 9010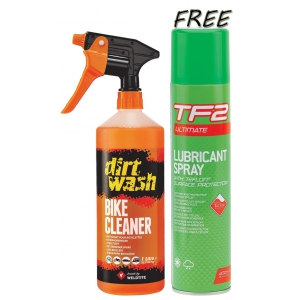 Weldtite Dirtwash 1L Cycle Cleaner & FREE 400ml TF2 Lubricant Pack
Supplier: Weldtite Tools
Manufacturer Part No: 03028
Unit: Pack
Added: 28/3/2018

Stock is not reserved until you submit your order.

Images are for illustration purposes only.

Pro-forma accounts: please call the office with payment details once you submit your order.

Please login to view stock information
When buying a Weldtite Dirtwash 1L cycle cleaner, receive a FREE 400ml TF2 lubricant with every purchase!
Weldtite Dirtwash Bike Cleaner Spray - 1 Litre - Multi-Action Spray Head
100% acid-free
Penetrating power
Cleans quickly with minimal scrubbing
Safe to use on painted, plated, polished or clear coated finishes
Weldtite TF2 Ultimate Spray Lube + Teflon - 400ml
Teflon® surface protector coating
High level of lubrication
Built-in repellent to disperse water
High penetration into bearing surfaces
Repels dirt and cleans surfaces
Leaves protective film
Also suitable for motorcycles, cars, boats, etc