Please Note: Orders may experience delays due to courier restrictions.
Ensure consignment can be signed for as temporary courier measures require consignments to be returned to sender after the first attempt.
PRODUCT CODE: 86031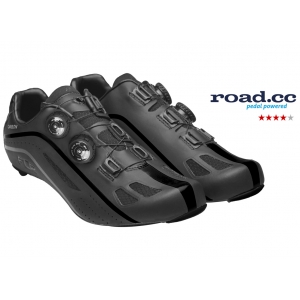 FLR F-XX Strawweight Road Race Full Carbon Sole Shoe in Black
Supplier: FLR Shoes
Manufacturer Part No: XX.III BK 44
Unit: Pair
Added: 29/12/2016

Stock is not reserved until you submit your order.

Images are for illustration purposes only.

Pro-forma accounts: please call the office with payment details once you submit your order.

Please login to view stock information
Julien Bérard chooses FLR Shoes!
The Pro Tour rider of AG2R La Mondiale chooses to ride with FLR's top of the range F-XX shoes in the world class peloton. Julien has already made 5 Giro d'Italia, one Vuelta a Espana and many of the other major world tour races.
The FLR F-XX shoe was designed in close cooperation with Julien. His expertise has influenced the development of the shoe, to create the world's greatest cycling shoe.
Upper: Lightweight microfibre leather with strong ventilated nylon mesh
Fastener: 2 x A-A14 Reel Knob and Velcro for complete security
Footbed: Performance cushion insole
Cleat Compatibility: Compatible with FLR C-20, C-30 cleats and all major 3-bolt clipless pedal systems
Vented tongue for breathability
Sole Technology
Road competition carbon fibre sole gives a rigid, powerful and efficient pedal stroke, while being extremely light and vented! Sole is equipped with two non-slip treads for safe walking.
Breathable Leather
Breathable lightweight microfibre leather with small vent holes, covers large areas to provide fantastic ventilation and breathability.
Reflective Inserts
High visibility reflective inserts for safety on the road.
Performance Insole
Red absorbed cushion layer provides maximum cushioning and shock absorption.
Lacing System
Easy to use lacing system for maximum super strong lace.
RoadCC Review: https://road.cc/content/review/259426-flr-f-xx-strawweight-road-race-full-carbon-sole-shoe