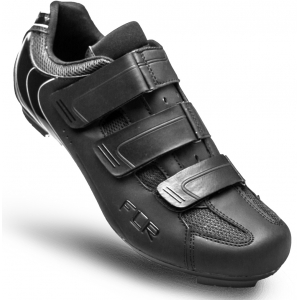 FLR F-35.III Road Shoe in Matt Black
Supplier: FLR Shoes
Manufacturer Part No: F-35.III BK / 44
Unit: Pair
Added: 14/1/2016

Stock is not reserved until you submit your order.

Images are for illustration purposes only.

Pro-forma accounts: please call the office with payment details once you submit your order.

Please login to view stock information
With minimalist design, a classic & clean look and a supple stretch resistant upper which hugs your foot like a second skin, the F-35.III sets the standard in entry level active footwear.
The body of the F-35.III rests on the lightweight R250 outsole to provide the perfect blend of stiffness and comfort. The shoe is secured by new low-profile straps. The main, hook-and-loop strap is angled to provide effective heel support while helping to resuce friction and an easy opening. The middle D-ring over strap provides a customisable adjustment to the shoe's volume. The smaller strap near the toes fastens to the outside of the foot per usual; it secures and warps the forefoot and allows you to dial in for the perfect fit.
Breathable lining
3 Velcro fastening for precise adjustment
Breathable tongue holes
Mesh windows for ventilation
R250 outsole with additional 5mm of cleat adjustability and Look Memory Eyelet
Grip straps for easy opening
Footbed: molded EVA, breathable and removable
Upper: high quality, breathable synthetic fibre with strong ventilated nylon mesh
Cleat: compatible with C-20, C-30 cleat series and all 3-bolt systems
What is an R250 Road Outsole?
The new injected fibreglass R250 Outsole is designed to have the perfect balance of stiffness, weight and comfort, providing you with great power transfer without compromising blood circulation.
The R250 Outsole is equipped with two non-slip treads for safe walking and a vent port at the front for consistent cooling during your entire ride.
The R250 Outsole uses a 12mm 3-hole drilling pattern for compatibility with the best pedal systems available. This provides an additional 5mm of cleat adjustability as well as the Look Memory Eyelet for easy cleat alignment and replacement.
roadCC Review: https://road.cc/content/review/flr-f-35iii-road-shoe-278189