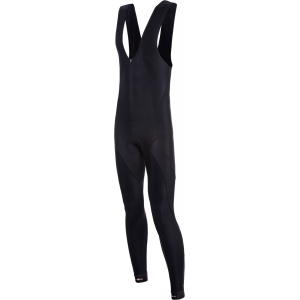 Funkier Polar Active Thermal Microfleece Bib Tights in Black (S-976-W-B14)
Supplier: Funkier - Bike
Manufacturer Part No: S-976W-B14 L
Unit: Pair
Added: 12/5/2017

Stock is not reserved until you submit your order.

Images are for illustration purposes only.

Pro-forma accounts: please call the office with payment details once you submit your order.

Please login to view stock information
For warmth during the cooler months, the Polar bib collection provides excellent insulation and protection from the cold while still remaining breathable. Keeping you comfortable in the saddle for hours at a time. Designed with a smooth outer Lycra and soft microfleece lining, the cold will be blocked out and will also help wick away any sweat.
Self locking front zipper
Grey flatlock stitching
SG-6 ankle gripper (on the full length)
Self locking ankle zipper
Double lycra - unique stretching technique
Firm grip yet allows blood flow
Anatomic shape for maximum comfort
1 back pocket
B14 Pad
Antibacterial fabric
Moisture transference
Maximum comfort
High density foam