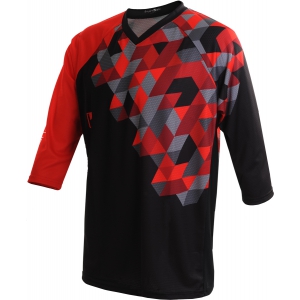 Funkier Flow-MTB Enduro 3/4 Jersey in Red/Black
Supplier: Funkier - Bike
Manufacturer Part No: JE821 RED L
Unit: Each
Added: 5/1/2018

Stock is not reserved until you submit your order.

Images are for illustration purposes only.

Pro-forma accounts: please call the office with payment details once you submit your order.

Please login to view stock information
Funkier Enduro Collection
During the last few years, Funkier has experienced tremendous growth with road and cross country collections. At the same time, the market has demanded a high-value solution for the world of Enduro. Funkier's Enduro collection was founded on their belief that every rider, regardless of background and level should have the best and most comfortable apparel. Like the rest of the Funkier collection, all Enduro items give the best performance at great value.
Lightest mix of polyester, honeycomb pattern fabric and mesh side panels for ventilation
Keeps you cool on the warmest trails
Available in a 3/4 sleeve length