PRODUCT CODE: 80248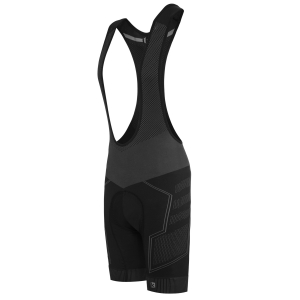 Funkier Potenza BS-6005-C14 "Seamless-Tech" Bib Shorts in Black/Grey (XS-S)
Supplier: Funkier - Bike
Manufacturer Part No: BS-6005-F14 S
Unit: Pair
Added: 3/4/2017

Stock is not reserved until you submit your order.

Images are for illustration purposes only.

Pro-forma accounts: please call the office with payment details once you submit your order.

Please login to view stock information
Seamless Collection. Seamless Technology. Funkier's seamless technology is an innovative clothing manufacturing process which minimizes and eliminates seams in clothing by creating the item as on piece. This process; often conducted on a Santoni machine, takes multiple threads of yarn and weaves together on piece of fabric in this case one garment, based on pre-programmed specifications of colour, density, pattern and size. Garments produced of seamless construction are more comfortable due to completely smooth, fitted textures on the inside of the garment.
Benefits: In addition to added comfort from limited or eliminates seam lines, Funkier's seamless technology offers multiple practical benefits. Weaving the entire garment into one piece from multiple yarns allows the garment to mimic different types of fabrics, patterns and weaves that have various functional characteristics in select regions of the garment. That means each area of the body is covered by a unique, customised fabric with varying qualities based on the needs of the area. All this is done without having to patch separate fabrics together. Other benefits include longer lasting anti-bacterial and cooling qualities, seamless waistbands and grippers composed of purposefully knitted yarns.
Materials: Yarns with different qualities and colours are used to weave complete garments. Summer garments are woven with thin threads into lighter patterns, while winter garments are made with thicker threads and heavier patterns. Antibacterial and moisture wicking qualities are added to the shirts through post-production processes, and because of woven patterns, are extra long-lasting as compared to similar qualities in traditional wear.
The Morano is the ultimate, second-skin bib shorts for serious athletes. Engineered for maximum performance, comfort, and breathability, the seamless tech Morano keeps you aerodynamic, efficient and dry during even the most intense cycling workouts.
Funkier's C-14 pad features four-way stretch fabric that moves with your body and is engineered to relieve pressure.
Take the comfort of cycling bibs to the next level. You′ll never turn back.
At Funkier they strive to deliver innovative, high-end cycling gear for cyclists around the world, at a price that everyone can afford.
Second skin fit for greater comfort, performance and mobility
Special zones for increased ventilation, support and flexibility
Mesh weave inlays facilitate air circulation for heat management
Quick Dry enables efficient cooling by promoting sweat evaporation
Antibacterial properties keep you and your garment fresh
4-way stretch fabrics and flatlock seams allow for complete range of motion
Composition: 67% Polyester, 25% Nylon, 8% Spandex