PRODUCT CODE: 54511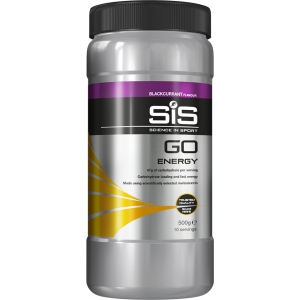 SIS Go Energy 500g Tub. Flavour: Blackcurrant

Stock is not reserved until you submit your order.

Images are for illustration purposes only.

Pro-forma accounts: please call the office with payment details once you submit your order.

Please login to view stock information
Why should you take SIS Go Energy?
It is well documented that one of the major causes of fatigue in endurance exercise is depletion of our carbohydrate energy stores. As early as the 1960s, sports scientists therefore developed carbohydrate loading strategies whereby athletes increase the amount of carbohydrate they consume in the days leading up to their event in order to increase our store of muscle glycogen. SIS GO Energy therefore provides a highly practical solution to achieve increased carbohydrate intake (and helps complement high carbohydrate food intake) in order to boost our muscle glycogen stores prior to training or racing. SIS GO Energy can also be consumed during exercise to provide a quick supply of energy to ensure additional carbohydrate delivery during exercise. Finally, SIS GO Energy could also be consumed after training or racing in order to help promote recovery of muscle glycogen stores so that you are fuelled and ready for your next hard training session or race.
Helps fuel before and during training or racing
Approx 50 grams of carbohydrate per serving
Easy to digest
Ideal as part your carbohydrate loading regime
Versatile and can be mixed at various concentrations
To be used in the days and hours prior to training
Can also be used during exercise to boost energy and fluid