Please Note: Today's cut-off time is 14:00 however due to the high volume of orders we are currently receiving your order may take 48 hours to arrive.
We will endeavour to deliver in 24 hours where possible.
Thank you for your understanding.
Please Note: Orders may experience delays due to courier restrictions.
Ensure consignment can be signed for as temporary courier measures require consignments to be returned to sender after the first attempt.
PRODUCT CODE: 51020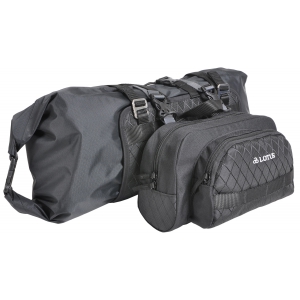 Lotus Tough Series TH7-6410 Handlebar Bag & Dry Bag (8.4L)
Supplier: Lotus Bags
Manufacturer Part No: TH7-6410
Unit: Each
Added: 22/9/2017

Stock is not reserved until you submit your order.

Images are for illustration purposes only.

Pro-forma accounts: please call the office with payment details once you submit your order.

Please login to view stock information
Lotus Tough Series bags are designed to deliver a stronger, more durable and reliable performance. Using a more robust material the Lotus Tough Series will help guide you through the most difficult conditions. All items are water resistant, constructed from high quality fabric and is easy to clean. Every item from this series comes after-market packaged, with product features displayed on the header card.
TOUGH series handlebar bag. Waterproof construction with roll down closure on the sides. Nylon fabric and adjustable height crown strap with EVA pads. It can also attach other bags to extend its functions. Compression straps system / QR system provide additional carrying options.
Velcro Fastening
600D Polyester
1200D Nylon + 120D Nylon
Zipper YKK®
Complete with light clip
Cover Size: 28cm (L) / 0.5cm (W) / 46.5cm (H)
Inner Bag Size: 28cm (L) / 0.3cm (W) / 85cm (H)
Front Bag: 25cm (L) / 15cm (W) / 11.5cm (H)
8.4 Litre capacity (including dry bag)
Weight: 390g (including dry bag)