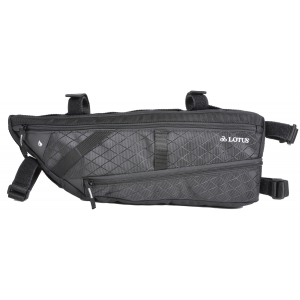 Lotus Tough Series TH7-11W Frame Bag in Black (3.8L)
Supplier: Lotus Bags
Manufacturer Part No: TH7-11W
Unit: Each
Added: 22/9/2017

Stock is not reserved until you submit your order.

Images are for illustration purposes only.

Pro-forma accounts: please call the office with payment details once you submit your order.

Please login to view stock information
Lotus Tough Series bags are designed to deliver a stronger, more durable and reliable performance. Using a more robust material the Lotus Tough Series will help guide you through the most difficult conditions. All items are water resistant, constructed from high quality fabric and is easy to clean. Every item from this series comes after-market packaged, with product features displayed on the header card.
TOUGH series frame bag comes with two side pockets, a tube exit for water bladder, extendable layer and adjustable shoulder strap. This bag can fit different length of bike frame, and makes it easy to carry essentials (sun cream, warmers, energy bars…). A perfect bag for long adventures or an all-day pleasure ride.
Note: Water bladder is not included
Velcro Fastening
600D Polyester
1200D Nylon + Tarpaulin
Zipper YKK®
Size: 43.5cm (L) / 5cm (W) / 14cm (H)
2.8 / 3.8 Litre capacity
Weight: 272g