Please Note: Orders may experience delays due to courier restrictions.
Ensure consignment can be signed for as temporary courier measures require consignments to be returned to sender after the first attempt.
PRODUCT CODE: 49507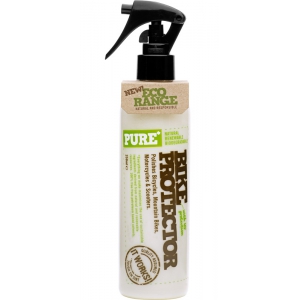 PURE* Bike Protector 250ml
Supplier: PURE*
Manufacturer Part No: 3408
Unit: Each
Added: 14/8/2015


Stock is not reserved until you submit your order.

Images are for illustration purposes only.

Pro-forma accounts: please call the office with payment details once you submit your order.

Please login to view stock information
At Weldtite they've been making superb bicycle cleaning & lubrication products for decades. After a great deal of hard work by their development team, they've been able to make a range that is a real alternative to 'traditional' cleaners & lubes AND it's totally environmentally friendly. So if the way you treat the environment is as important to you as the way you treat your bike.
Try it - IT WORKS!
With UV protection
Polishes bicycles, mountain bikes, motorcycles and scooters