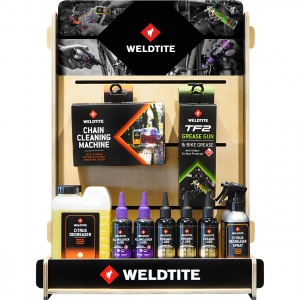 Weldtite Wooden Counter Stand & Drivetrain Stock
Supplier: Weldtite Tools
Manufacturer Part No: 00017/00053
Unit: Each
Added: 4/2/2021

Stock is not reserved until you submit your order.

Images are for illustration purposes only.

Pro-forma accounts: please call the office with payment details once you submit your order.

Please login to view stock information
A high quality wooden stand made from sustainable sources. It is safe, secure and sturdy. Containing some of the best selling DirtWash and TF2 products and with an eye catching design this stand is easy to assemble (no tools required).
Counter top or wall mounted (bracket supplied)
Dimensions: 45cm (w) x 65cm (h) x 25cm (d)
4 x Citrus Degreaser (250ml)
3 x Citrus Degreaser (1 Litre)
5 x Ceramic Lube (100ml)
5 x All-Weather Lube (100ml)
2 x Grease Gun & Bike Grease (125ml)
2 x Chain Cleaning Machine