Please Note: Today's cut-off time is 14:00 however due to the high volume of orders we are currently receiving your order may take 48 hours to arrive.
We will endeavour to deliver in 24 hours where possible.
Thank you for your understanding.
Please Note: Orders may experience delays due to courier restrictions.
Ensure consignment can be signed for as temporary courier measures require consignments to be returned to sender after the first attempt.
PRODUCT CODE: 49178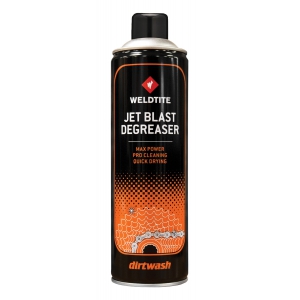 Weldtite Dirtwash Jet Blast Degreaser (500ml)
Supplier: Weldtite Tools
Manufacturer Part No: 3087
Unit: Each
Added: 18/9/2019

Stock is not reserved until you submit your order.

Images are for illustration purposes only.

Pro-forma accounts: please call the office with payment details once you submit your order.

Please login to view stock information
WELDTITE JET BLAST DEGREASER - ONE GIANT LEAP FOR BIKE CLEANING
Weldtite, the leading UK manufacturer of bike lubricants and cleaners, are excited to announce the launch of JET BLAST; a high pressure, high performance degreaser. More time riding, less time cleaning. This drive to improve the rider's overall experience has been at the heart of Weldtite's research and product development. Featuring a powerful jet spray that makes short work of removing muck, grime and oil JET BLAST significantly reduces the time it takes to effectively clean the chain, crankset, cassette and jockey wheels.
Designed for use on drivetrains, JET BLAST degreaser is formulated slightly differently to the brand's popular and effective Citrus Degreaser, so that it dries rapidly giving a professional clean in seconds.
JET BLAST degreaser has been tested extensively by Weldtite to ensure maximum cleaning efficiency. This testing is part of an ongoing process by Weldtite to provide industry leading product quality across tools, lubrication and cleaning products.
The most powerful and efficient way to clean your drivetrain. The powerful jet spray makes short work of removing muck and grime and dries rapidly, giving you a professional clean in seconds. Want more time riding and less time cleaning? Choose JET BLAST Degreaser and explore one giant leap for bike cleaning.
JET BLAST is designed for use on bicycle drivetrains and features a powerful jet spray to blast dirt, muck and grime from the moving parts.
Features max power Jet Spray to easily target and eliminate dirt, muck, grime and oil
Enables professional grade cleaning with ease. Removal of the cassette or chain is not required to achieve a pristine finish
Extremely quick drying. No need to wait for the degreaser to dry once the drivetrain is clean