Please Note: Orders may experience delays due to courier restrictions.
Ensure the consignment can be signed for as temporary courier measures require consignments to be returned to sender after the first attempt.
PRODUCT CODE: 47812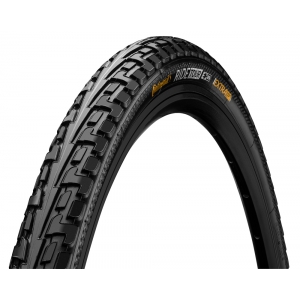 Continental Ride Tour Rigid Tyre in Black
Supplier: Continental
Manufacturer Part No: 101148
Unit: Each
Added: 2/1/2013


Stock is not reserved until you submit your order.

Images are for illustration purposes only.

Pro-forma accounts: please call the office with payment details once you submit your order.

Please login to view stock information
Reliable companion for tours
The first representative of this generation, the RIDE Tour - a development of the well-known Tour Ride.
Reliable puncture protection thanks to Conti's new breaker; EXTRA PunctureBELT
This continuous centre tread provides good rolling properties, and at the same time sufficient traction when cornering
Robust carcass and durable tread provides impressive performance, even on demanding rides
This tyre is at home on any surface - a real all-rounder
Approved for e-bikes up to 25km/h
The right choice for cycling city-dwellers who ride to work, college or school every day, for example, on paved or gravel paths through urban environments. This tyre perfectly suits a customer's requirements of 'low budget, but needing to arrive without getting a puncture'.
Customers also benefit from higher mileage and a large range of sizes.
EXTRA PunctureBELT
Trouble-free, every day
This robust GummiBreaker combines with the rubber-reinforced sidewalls of the tyre to ensure high levels of puncture protectino against puncturing and wear. A tough tyre with a strong focus on durability.