PRODUCT CODE: 47664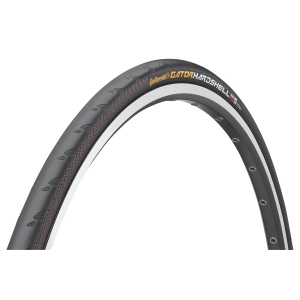 Continental Gatorhardshell Black Tyre (Rigid)
Supplier: Continental
Manufacturer Part No: 100310
Unit: Each
Added: 4/1/2013

Stock is not reserved until you submit your order.

Images are for illustration purposes only.

Pro-forma accounts: please call the office with payment details once you submit your order.

Please login to view stock information
Robust companion for touring
The Gator Hardshell is an impressive tyre with its sturdy construction and durability. Because of its reliability, it is preferred for use on extended touring rides. The product has extremely high mileage and with the extra wide puncture protection liner provides an added advantage. These tyres show no signs of fatigue even after many kilometres.
Various sizes available
Rigid option
TPI: 3/180
Weight: 330g (700 x 23mm rigid)