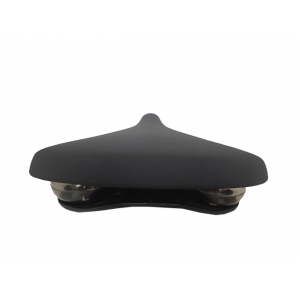 DDK D182 Commute Saddle in Black (Unpackaged)
Supplier: DDK Saddles
Manufacturer Part No: D182
Unit: Each
Added: 30/6/2021

Stock is not reserved until you submit your order.

Images are for illustration purposes only.

Pro-forma accounts: please call the office with payment details once you submit your order.

Please login to view stock information
A commuter's saddle has many different requirements compared to a normal bicycle saddle. It needs to be very strong to prevent damage. It needs to be weather resistant, and on top of that, it always needs to be elegant and shiny to impress the rider.
The COMMUTE is a re-design of the urban saddle by DDK. Looking at the commuter saddle from an entirely new point of view. DDK came up with a number of new solutions to deliver the ultimate commuter bike saddle.
Dimensions: 255 x 200 x 45mm
Unisex saddle
Smooth ride with Patented integrated air suspension
Absorbs shocks and makes any urban ride feel like you are on a brand new road