Please Note: Whilst the majority of orders will be delivered on time, some may experience a short delay due to volume of business.
Thank you for your understanding.
PRODUCT CODE: 40236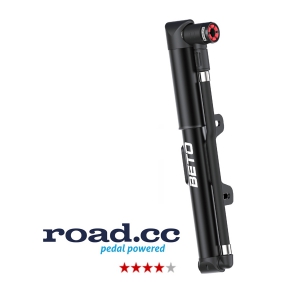 Beto EZ-055A Pre-Loaded Alloy Mini Pump
Supplier: Beto
Manufacturer Part No: EZ-055A
Unit: Each
Added: 14/5/2020

Stock is not reserved until you submit your order.

Images are for illustration purposes only.

Pro-forma accounts: please call the office with payment details once you submit your order.

Please login to view stock information
To try is to believe!
Award-winning EZ Head
High quality CNC aluminium construction
Advanced fix & pre-load pull stroke for 2-way pumping
3-chamber barrels maximise air output to save 40% of strokes
Reach riding pressure with 50% less power consumption
Swivel hose creates ergonomic pumping
Patented advanced lever-less EASY on & off head
Max Pressure: 160PSI
roadCC Review: https://road.cc/content/review/beto-ez-055a-pre-loaded-alloy-mini-pump-282585