PRODUCT CODE: 40233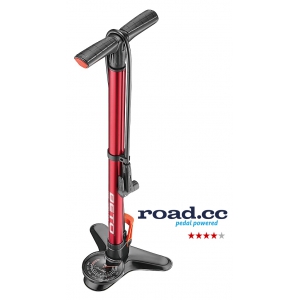 Beto Surge Tubeless Floor Pump W/Gauge
Supplier: Beto
Manufacturer Part No: CFL-003AGD
Unit: Each
Added: 21/8/2018

Stock is not reserved until you submit your order.

Images are for illustration purposes only.

Pro-forma accounts: please call the office with payment details once you submit your order.

Please login to view stock information
"OFA(One For All Tubeless), an alloy floor pump with the capability to seat tubeless tyres. Its lightweight tube-in-tube structure features an internal burst tank. Needing only eight strokes to fill, this can then be released to pop tubeless tyres into place. With the flip of a lever the pump switches between modes. In both, a patented auto-head and oversized gauge make for easy operation."
by ShowDaily 2018 Reporter
Composite handle w/ball needle set stored in handle
Super-Light Tube-in-Tube structure with internal hidden burst tank
Need only 8 strokes to fill 160psi burst tank
Oversized 4" industrial gauge for easy reading
Tank Mode (Lever Down): To store air in the burst tank
Release Mode (Lever Up):To fill the burst tank for sitting tubeless tyre
Keep lever up for general pumping purpose
Patented Auto Head fits Schrader/Presta
Weight: 1930g
Height: 73cm
Base Width: 37cm
Gauge: 4" Industrial
Max PSI: 160PSI
Tube Diameter: 37mm (external) 32mm (internal)
Material: Plastic handle, Alloy barrel, Steel base
RoadCC Review: https://road.cc/content/review/257995-beto-surge-tubeless-floor-pump