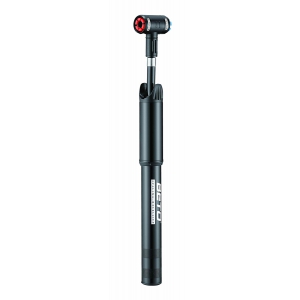 Beto EZ-003A 1-Way Mini Pump W/Hose in Black
Supplier: Beto
Manufacturer Part No: EZ-003A BLACK
Unit: Each
Added: 19/9/2017


Stock is not reserved until you submit your order.

Images are for illustration purposes only.

Pro-forma accounts: please call the office with payment details once you submit your order.

Please login to view stock information
EZ Head
EZ head's unique lever-less design allows the user to engage with the tyre valve by using just one hand and it is an easy push-on and pull-off fast action. Conventional pump heads requires two hands to do the job. It's revolutionary "Double-Lock" valve-lock system provides stronger engagement with the tyre valve. External 8 claws firmly lock onto the threaded stem. An internal rubber grommet is compressed by perimeter-force to make the valve air-tight. A conventional pump head only relies on top-down force to squeeze the rubber grommet to grip the valve. The valve-lock mechanism of the EZ head is triggered by a fixed amount of insertion force to the valve. There is no guess work like a conventional pump head.
Lever-less one-hand operation
Easy push-on & pull-off fast action
Revolutionary "Double-Lock" valve lock system
Fool-proof fixed force & depth insertion
Hammerhead dual valve or single valve
Features
TPC Taipei Cycle Award 2016
Good Design Award 2016
1-way all alloy mini pump with 5" retractable hose
Patented lever-less design
One hand operation
Fits Schrader and Presta
Up to 120PSI