PRODUCT CODE: 37799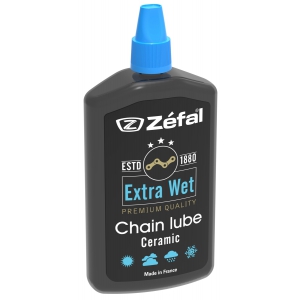 Zefal Extra Ceramic Premium Wet Lube (120ml)
Supplier: Zefal
Manufacturer Part No: 9613
Unit: Each
Added: 18/1/2019

Stock is not reserved until you submit your order.

Images are for illustration purposes only.

Pro-forma accounts: please call the office with payment details once you submit your order.

Please login to view stock information
Premium, ceramic-based lubricant. Very long lasting!
Based on patented technology, Extra Wet Lube has exceptional durability no matter what the conditions. It greatly reduces friction through a layer of ceramic nanoparticles that increase chain protection. This ceramic-reinforced, Teflon-based formula provides performance that is 15% better than lubricants made solely with Teflon. This highly effective lubricant is perfectly suited for cyclists on a variety of terrains (mountain bike trails, gravel paths, etc.) who are looking for long-distance performance while cycling through variable or even extreme weather conditions.
Suitable for all weather conditions
Highly water resistant - anti-corrosive properties, prolonging the life of componentry
Exceptional durability - effective over very long distances
Friction reduction - smoother pedalling and a quieter drivetrain
120ml squeezable bottle with safety cap
5* performance
5* durability
3* cleanliness
Application Instructions
Degrease and clean the chain using, for example, Zefal Bike Degreaser and the ZB Clean brush. Effective lubrication can only be achieved on a clean, degreased chain.
Rinse and dry using a cloth
Apply a moderate amount of Pro Wet Lube on the chain while rotating the pedals
Wipe any excess lubricant off the chain