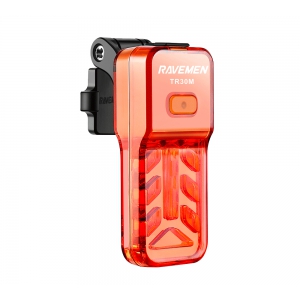 Ravemen TR30M USB Rechargeable Rear Light (30 Lumens)
Supplier: Ravemen
Manufacturer Part No: TR30
Unit: Each
Added: 20/9/2019

Stock is not reserved until you submit your order.

Images are for illustration purposes only.

Pro-forma accounts: please call the office with payment details once you submit your order.

Please login to view stock information
Crystal Pure Red Rear Light. Featuring transparent light body and special internal reflecting patterns, TR30M gives out 360 degree beam with max 30 LED lumens, providing much better rear and side visibility to increase rider's safety. It is lightweight, easy to use and versatile with quick release clamp mount.
Providing 360-degree beam angle
Transparent pure red light body
Special internal reflecting patterns
Convert dual LEDs point lights into panel lighting alike, enhancing the rear and side visibility and increasing rider's safety
Brighter and larger side visibility
Mounting the light in a nearly horizontal position, the light body is more obvious than the traditional vertical way
Adjust the angle for daily riding with max visibility or for group riding without dazzling following riders
Product Features
Dual Highly efficient LEDs with max 30 LED lumens
Transparent light body with 360-degree beam angle
Special internal reflecting patterns, enhancing the rear and side visibility and increasing rider's safety
Mounting angle adjustable for daily riding with max visibility or for group riding without dazzling following riders
Quick release design, compatible with round and aero seatposts
Micro USB charging port, compatible with most phone chargers
Built-in battery indicator and charging indicator
Intelligent memory circuit remembers the last used brightness level and mode when turned on again
Tech Specifications
LED: Dual highly efficient LEDs
Battery: 200mAh/3.7V rechargeable Li-polymer battery
Dimensions (light unit): 25mm (L)*21mm (W)*62mm (H)
Weight (light unit): 22g
Mount size: compatible with φ 24-36mm seatpost
Design and specifications are subject to change without notice
RoadCC Review: https://road.cc/content/review/ravemen-tr30m-rear-light-281505