Please Note: Today's cut-off time is 15:00 however due to the high volume of orders we are currently receiving your order may take 48 hours to arrive.
We will endeavour to deliver in 24 hours where possible.
Thank you for your understanding.
Please Note: Orders may experience delays due to courier restrictions.
Ensure consignment can be signed for as temporary courier measures require consignments to be returned to sender after the first attempt.
PRODUCT CODE: 30343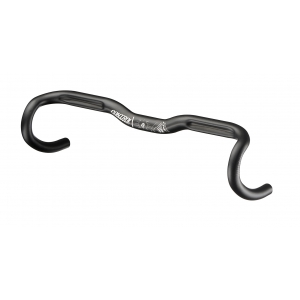 ControlTech One Gravel 500 - 6061 Handlebars 500mm in Black
Supplier: ControlTech
Manufacturer Part No: RA-536
Unit: Pair
Added: 4/7/2019

Stock is not reserved until you submit your order.

Images are for illustration purposes only.

Pro-forma accounts: please call the office with payment details once you submit your order.

Please login to view stock information
Product Details
'Riser' design means tops are raised above the level of the stem. This is great for riders who enjoy a more upright and comfortable position
Strong and lightweight gravel bars made from 6061 aluminum, which comprises aluminum, magnesium and silicone. This combination is proven to increase strength to maximise every ounce of energy, while reducing weight for faster cycling
6061 aluminum is also renowned for its durability – an essential attribute for gravel riding
The 125mm drop and 78mm reach guarantees you'll find a comfortable and sustainable hand position whatever your hand size and aerodynamic preference
'Oversized' 31.8mm bar diameter increases stiffness without adding weight
Width of 500mm – will fit gravel riders
Weighs 315g
Product Key Features
Made For:Gravel riding
Material:6061 aluminum
Bar Diameter:31.8mm
Bar Widths:500mm
Drop Flare:0°
Rise:20mm
Bar Drop:125mm
Bar Reach:78mm
Weight:315g
Color:Laser

About ControlTech
Reliability: Controltech USA knows the combination of sound engineering and high-quality materials practically guarantees the lifelong performance you expect. They never compromise our designs at the expense of low-quality materials. They use only premium grade raw material of aerospace quality.
Ingenuity: Controltech is, and always has been, a global leader in component design. The state-of-the-art manufacturing technology would be nothing without the cutting-edge innovation of our Global Research & Development Team.
Quality: A precise, unflinching view of manufacturing tolerances and meticulous craftsmanship are the hallmarks of Controltech components. Craftsman-level alloy welding and carbon layup are hallmarks of our designs. Plus of course, the use only premium-grade raw materials in the first place.
Value: Though the greatest innovation takes place on the cutting edge of material science, manufacturing processes and product design, there's such a thing as 'trickle down.' Today's no-expense-spared prototype is tomorrow's easily-obtained standard. ControlTech work hard to create a range that covers every riding style, every rider and every budget – without ever sacrificing class-leading performance.