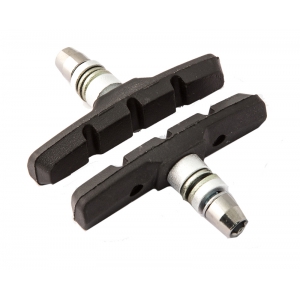 Clarks CP510 - 70mm V-Type & Cantilever Brake Block - Threaded Type

Stock is not reserved until you submit your order.

Images are for illustration purposes only.

Pro-forma accounts: please call the office with payment details once you submit your order.

Please login to view stock information
Clarks Brake Pads & Cartridges
Clarks have a compressive range of rubber brake pads for all riding styles. Whether it be MTB, road or BMX Clarks have a pad that is compatible with all major manufacturers braking systems and rim materials. Clarks Elite pads use compounds that give unrivalled braking performance at both high and low speeds, whilst Clarks standard range of pads provide reliable, consistent braking through their lifetime. Some of the Clarks pads are available with replacement cartridges providing the rider with a choice of compounds for various riding conditions.
MTB V-brake pad
70mm V-type cantilever brake block
Threaded-type
Bulk option available (16411/BULK)