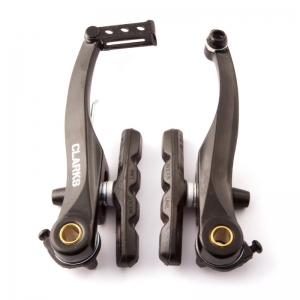 Clarks V-Brake Caliper in Black

Stock is not reserved until you submit your order.

Images are for illustration purposes only.

Pro-forma accounts: please call the office with payment details once you submit your order.

Please login to view stock information
Die cast alloy calipers, ideal for MTB and hybrid cycles. Supplied with pads.
55mm EN brake shoes, steel lead pipe & rubber boot, 20.6-40.6mm, ED black
Die cast alloy construction
Liner pull brake
55mm rubber brakes shoes Inc.
Steel guide pipe and rubber boot Inc.