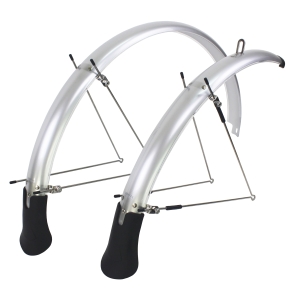 KranX FendR Pre-Assembled Full Length Mudguard in Silver 55mm
Supplier: KranX
Manufacturer Part No: SW-820 55mm - Silver
Unit: Each
Added: 19/9/2023


Stock is not reserved until you submit your order.

Images are for illustration purposes only.

Pro-forma accounts: please call the office with payment details once you submit your order.

Please login to view stock information
Made from ultra-resistant Polycarbonate with Stainless steel fixings
Quick releasing pop-off stays on front guard for safety
Mud-flaps front and rear for extra coverage
Disc brake compatible fittings included
Pre-assembled for easy installation
55mm suitable for 38-48mm tyre widths
-------------------------------------------------------------------------------------------
KRANX ALL CYCLE
IBD focused brand exclusive to Bob Elliot & Co., ranged in-house and sourced from proven, reputable manufacturers.
Designed to be simple to stock and easy to sell, ranges consist primarily of key selling, high turnover workshop replacement items and over the counter products.
Benefits include;
Consistent, informative 'self-selling' packaging across all ranges
Excellent dealer margins and partner programmes
Low risk investment in stocking neat ranges of high turnover and easy to replenish products
MUDGUARD RANGE: Excellent range of pre-assembled, high quality mudguards in a range of popular sizes. Made from ultra-resistant Polycarbonate and finished with stainless steel fixings.
Seven Day Cyclist Review: https://www.sevendaycyclist.com/kranx-fendr-full-length-mudguards