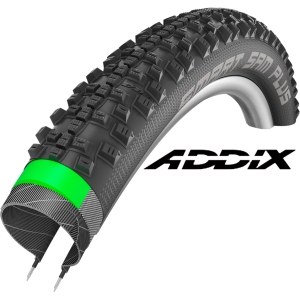 Schwalbe Addix Smart Sam Plus GreenGuard SnakeSkin (Wired) 29 x 2.25"
Supplier: Schwalbe
Manufacturer Part No: 11101152.01
Unit: Each
Added: 23/10/2023


Stock is not reserved until you submit your order.

Images are for illustration purposes only.

Pro-forma accounts: please call the office with payment details once you submit your order.

Please login to view stock information
What makes an almost perfect all-rounder even better? No easy challenge for the Schwalbe senior developer. The resilt, however, is outstanding. The tread of the new Smart Sam is modern and balanced at the same time. The compact central rib provides comfortable rolling; the edged outer lugs guarantee optimized off-road grip. For this reason Smart Sam is reliable in every condistion and even rolls well on road.
Smart Sam Plus. First class all-rounder with extra puncture protection due to the 3mm GreenGuard layer. ECE-R75 approved for great riding fun on your E-MTB.
ADDIX COMPOUND
Push yourself to your limits and demand the most from your tyre. When the pressure is on, it shows its true colours: more grip, more speed, more mileage.
Experience a different dimension. ADDIX – the new compound for Schwalbe.
For all information, please visit; https://www.schwalbetires.com/addix-compound/
Formula & Raw Materials
Every rubber compound is made up of natural and synthetic rubbers - along with many other solid and liquid ingredients. Carbon black, silica, silanes, oils, sulphur anti-oxidants to name just a few... The quality of all these raw materials determines whether a tyre will be outstanding or just mediocre. There are countless options for selecting, combining and measuring them, so a good formula requires highly specialised expertise, high-quality raw materials and extrensive testing - it goes without saying that the final recipe is top secret.