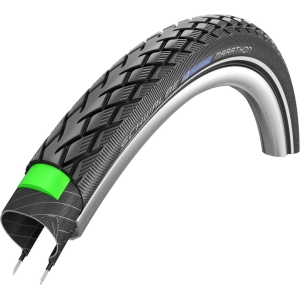 Schwalbe Marathon GreenGuard Touring Endurance Compound Tyre in Black/Reflex
Supplier: Schwalbe
Manufacturer Part No: 11100007
Unit: Each
Added: 23/10/2023


Stock is not reserved until you submit your order.

Images are for illustration purposes only.

Pro-forma accounts: please call the office with payment details once you submit your order.

Please login to view stock information
IF SIZE ISN'T IN STOCK, PLEASE TRY CODE 47555 (this is the new Green Marathon)
The GreenGuard puncture protection layer consists of natural rubber of which one-third is recycled material. Additionally Schwalbe developed its own processing technology: In Schwalbe's factories products made of natural rubber (like gloves, tubes etc….) are ground up and after several processes re-emerge as natural raw material.
GreenGuard
Same principle as the SmartGuard, but only about 3mm thick. One-third of the highly elastic India rubber is made up of recycled latex products. The same safety, but affordable PunctureGuard is not as highly elastic.
The original. The archetypal high quality touring tyre. Now completely revised:
GreenGuard. The highly elastic, India rubber layer is 3mm thick. Other manufacturers such a tyre "Plus". However, Green is not just the colour, but also the philosophy: One third of the GreenGuard is made up of recycled latex products.
"Anti-Ageing". The completely new sidewall construction can withstand for much longer the typical cracking resulting from overloading due to insufficient inflation pressure. Also the new Endurance Compound substantially increases durability.
E-Bike Ready. The new Marathon has been designed for use on all types of E-Bikes. The following sizes bear the ECE75 mark, suitable for the use on faster, up to 50kph E-Bikes.
Sizes: various, please see availability
Available in black/reflex
Endurance tyre
GreenGuard compound
Weight: 520g (700 x 25mm)