PRODUCT CODE: 9004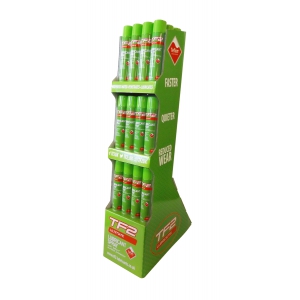 Weldtite TF2 Promotional Display (24 Standard TF2, 12 SmartHead TF2)
Supplier: Weldtite Tools
Manufacturer Part No: 00003
Unit: Each
Added: 21/9/2018

Stock is not reserved until you submit your order.

Images are for illustration purposes only.

Pro-forma accounts: please call the office with payment details once you submit your order.

Please login to view stock information
The Deal: Buy 24 standard TF2 tins, 12 Smart Head TF2 tins and get a floor display FREE!
Weldtite's best selling line just got better! The evolution of their TF2 Ultimate Spray now includes an innovative Smart Head with integrated straw for better penetration and less wastage.
Teflon® surface protector coating
High level of lubrication
Built-in repellent to disperse water
High penetration into bearing surfaces
Repels dirt and cleans surfaces
Leaves protective film
Also suitable for motorcycles, cars, boats, etc
Available with Smart Head
Image for illustration purposes only. Stand will contain 24 standard tins and 12 Smart Head