PRODUCT CODE: 86512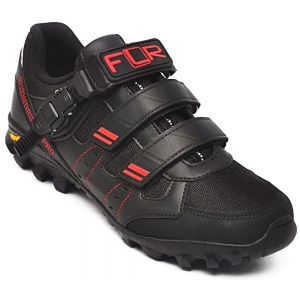 FLR Bushmaster Pro MTB/Trail Shoe in Black/Silver - Buckle & Velcro Fastening
Supplier: FLR Shoes
Manufacturer Part No: BUSHMASTER PRO
Unit: Pair
Added: 29/12/2014

Stock is not reserved until you submit your order.

Images are for illustration purposes only.

Pro-forma accounts: please call the office with payment details once you submit your order.

Please login to view stock information
Upper: Supportive, lightweight and highly resistant PU leather for extreme mountain biking conditions
Fastener: 2 Velcro straps and rachet buckle
Footbed: Removable EVA
Cleat Compatibility: Compatible with FLR C-10 cleats and 2-bolt SPD
Vented Tongue for breathability
Sole Technology:
Vibram MTBike is a sole specifically developed for Freeriding. Made of the Vibram Trek compound for excellent adherence to all types of surfaces, this sole is equipped with an extremely functional design:
Reinforced lateral cleats for greater traction and stability
Removeable attachment area for improved functionality and performance
Tapered shape ideal for mountain biking
Flexion lines that facilitate walking
Rubber tip to ensure protection and grip
With the Vibram MTBike, mountain biking enthusiasts can face long journeys in maximum comfort, climb steep slopes with the bike on their shoulder and safely walk, reducing the risk of slipping.