PRODUCT CODE: 86034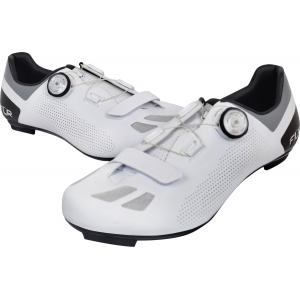 FLR F-11 Pro Road Race Shoe in White
Supplier: FLR Shoes
Manufacturer Part No: F-11 WHT 44
Unit: Pair
Added: 10/1/2019

Stock is not reserved until you submit your order.

Images are for illustration purposes only.

Pro-forma accounts: please call the office with payment details once you submit your order.

Please login to view stock information
Elegant, aerodynamic and comfortable, the user-inspired F-11 shoes feature the perfect blend of performance, stiffness and support on the road.
The F-11 uses a seamless upper design with FLR's new pro-last, comprised from a single piece of premium microfibre to conform to the shape of your foot like a glove. The lacing system uses a single dial & Velcro strap for a secure fit at each point of your foot. A combination of nylon mesh, perforated holes and a breatheable tongue deliver excellent ventilation. The F-11 is equipped with the R250 outsole to boost performance and pedal power transfer without compromising on weight and comfort.
Performance-driven with a pro-design, the F-11 will satisfy any rider looking for their next favourite pair of shoes.
Features
Reel-knob dial and Velcro strap for a quick and secure closure
Breatheable tongue with perforated holes
Mesh inserts for ventilation
R250 outsole
Performance footbed
Pro-tour last
Upper: premium breatheable microfibre with strong ventilated nylon mesh
Cleat: compatible with C-20, C-30 cleat series and all 3-bolt systems
R250 Outsole
The R250 delivers uncompromising durability, performance and comfort, suitable for the enthusiastic cyclist. The newly designed nylon outsole offers a perfect combination of stiffness, weight and comfort. A front port improves ventilation. The outsole is equipped with two non-slip treads for safe walking.
The 12mm 3-hole drilling pattern is comptatible with all pedal systems and includes 5mm cleat adjustability and a Look Memory Eyelet for easy cleat replacement.
roadCC Review: https://road.cc/content/review/260263-flr-f-11-pro-road-race-shoe