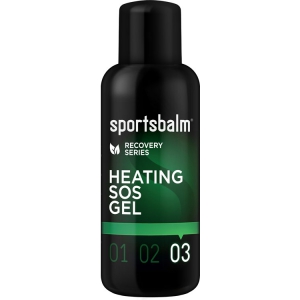 Sportsbalm Recovery Series - Heating SOS Gel - 200ml
Stock is not reserved until you submit your order.

Images are for illustration purposes only.

Pro-forma accounts: please call the office with payment details once you submit your order.

Please login to view stock information
Green Recovery Series. The Sportsbalm Green Recovery Series supports quick recovery after exercise. The products care for tired and sensitive muscles and are suitable for use in all weather conditions.
Waste. The intensive pumping of the muscles tapers off after exercise causing waste to no longer be disposed of properly. Especially if they have experienced heavy exertion, a build-up of waste products will quickly develop in the muscles. Extreme exertion can also cause tears and knots in the muscles: all things that inhibit muscle recovery.
Targeted treatment. Strained and sensitive muscles receive targeted treatment with the Sportsbalm Green Series products. Blood circulation is promoted, and Green Series products help with stiff and aching muscles, tendons and joints.
For every problem area. Each product in the Green Series has its own unique combination of active ingredients. This allows all problem areas to be effectively treated.
Heating SOS gel is a long-lasting intensive warming balm, especially for heavily strained muscles and tendons. The balm relaxes the muscles and tendons and has a beneficial effect on circulation. Heating SOS gel can be applied to specific problem areas.
Why Heating SOS gel?
Strong, long-lasting warming of problem areas
Ideal for problem areas with poor circulation
Great for lower back, shoulders and neck
Promotes circulation
Helps with recovery after sports injury
Skin nourishing, non-greasy gel