Please Note: Orders may experience delays due to courier restrictions.
Ensure consignment can be signed for as temporary courier measures require consignments to be returned to sender after the first attempt.
PRODUCT CODE: 54118/BCUR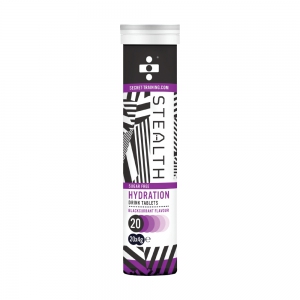 Stealth Hydration Tablets. Flavour: Blackcurrant (Tray of 12 Tubes, 20 Tablets/Tube)
Stock is not reserved until you submit your order.

Images are for illustration purposes only.

Pro-forma accounts: please call the office with payment details once you submit your order.

Please login to view stock information
STEALTH Hydration Tablets: Sugar-free effervescent tablets. With added vitamins, minerals and sweetener
Hydration tablets are a simple effective way to make a tasty hydration drink. Dissolving 1 tablet into 500ml will produce a 30mmol/L sodium solution, the optimal concentration for rehydration in most conditions.
Ingredients:
Citric Acid, Electrolyte Mix 40% (Sodium Bicarbonate, Sodium Chloride, Tricalcium Phosphate, Potassium Chloride, Calcium Carbonate, Magnesium Carbonate, Zinc Citrate), Anti-Caking Agent (Polyethylene Glycol), Inulin, Bulking Agent (Sorbitol), Maltodextrin, Colour (Beetroot Red), Sweetener (Sucralose), Triacetin, Natural Flavouring, Acacia Gum, B Vitamins (Pyridoxine Hydrochloride, Riboflavin-5-Phosphate, Thiamine Hydrochloride).
Product does not contain an allergens based on Annex 11 of Regulation (EU) No. 1169/2011.
Product is suitable for vegetarians and vegans.
Directions: Add one Hydration Tablet to 500ml of water and allow to dissolve. Consume with 24 hours, best served chilled.