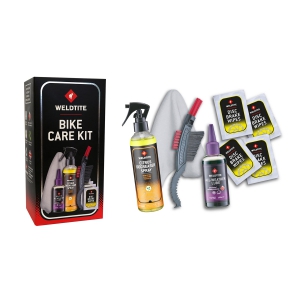 Weldtite Bike Care Kit (Exclusive!)
Supplier: Weldtite Tools
Manufacturer Part No: 03192
Unit: Kit
Added: 18/8/2021

Stock is not reserved until you submit your order.

Images are for illustration purposes only.

Pro-forma accounts: please call the office with payment details once you submit your order.

Please login to view stock information
EXCLUSIVE to Bob Elliot & Co Ltd for a limited time!
Get your bike up to speed and well maintained with this Weldtite Bike Care Kit. Using some of the most popular products from the cleaning and lubrication collection you won't be disappointed!
1 x 250ml Citrus Degreaser Spray
1 x Sprocket brush
1 x Cleaning cloth
1 x 100ml All-Weather Lube
4 x Disc Brake Wipes