PRODUCT CODE: 49262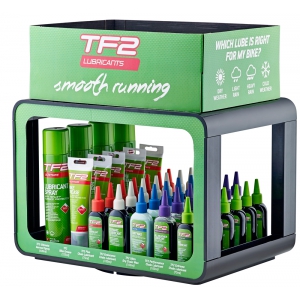 Weldtite TF2 Merchandiser Pod Stock
Supplier: Weldtite Tools
Manufacturer Part No: 00033 00043
Unit: Each
Added: 19/9/2017

Stock is not reserved until you submit your order.

Images are for illustration purposes only.

Pro-forma accounts: please call the office with payment details once you submit your order.

Please login to view stock information
Available as individual pods with slatwall mounting brackets, or as a complete free-standing shop stand (as you see here), there's an option to suit every retailer. Quick and easy to assemble, these new lightweight stands all come with branded frames and crowns to give maximum impact in the retail environment. Simply buy the stock and receive the stand for FREE!
Contents:
TF2 Ultimate Lubricant Spray x4
TF2 Bike Grease x5
TF2 Plus Dry Lube x7
TF2 Endurance Ceramic Lube x7
TF2 Ultra Dry Wax x7
TF2 Performance All-Weather Lube x7
TF2 Extreme Wet Lube x7