Please Note: Whilst the majority of orders will be delivered on time, some may experience a short delay due to volume of business.
Thank you for your understanding.
PRODUCT CODE: 47584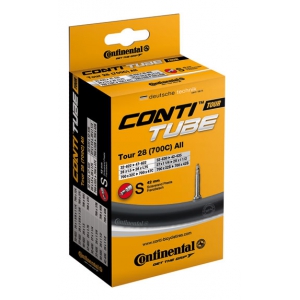 Continental Race 28" Wide (700 x 25 - 700 x 32mm) Presta Valve - 42mm
Supplier: Continental
Manufacturer Part No: 181921
Unit: Each
Added: 17/4/2015


Stock is not reserved until you submit your order.

Images are for illustration purposes only.

Pro-forma accounts: please call the office with payment details once you submit your order.

Please login to view stock information
The new ContiTube bicycle tube program makes it easier for you to find the ideal tube for your cycling demands. They offer a selection of tube sizes, types, lengths and dimensions for MTB, Tour, Cross and Race tyres. Varying tube types can affect your tyres' handling characteristics with little effort: the Standard tube, available in many dimensions, offers the best compromise for everyday cycling.