PRODUCT CODE: 37792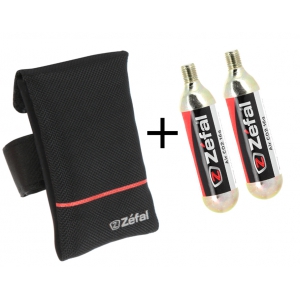 Zefal Z Micro Pack Incl. 2 x 16g Cartridges
Supplier: Zefal
Manufacturer Part No: 7022
Unit: Set
Added: 9/11/2018

Stock is not reserved until you submit your order.

Images are for illustration purposes only.

Pro-forma accounts: please call the office with payment details once you submit your order.

Please login to view stock information
Zéfal Z Micro Bag & 16g Cartridges Bundle. Limited Time Offer!
A minimalist saddle bag that is lightweight and water-resistant. The Z Micro Pack allows you to transport your repair essentials (multi-tool, tyre-iron, CO2 inflator) with you at all times but takes up the smallest amount of space. The bag is discrete and can be fitted to the saddle quickly and without any tools.
Fitted quickly and without any tools
Velcro mounting system
Suitable for MTB and road
Made from neoprene and tarpaulin
The 16g threaded CO2 cartridges are designed to inflate quickly a tire to a high pressure. Good compromise between weight and capacity, it will serve you during your long rides. Fits with all inflators in the market.
Features
Size: 16g
Type of cartridges: Threaded
Weight: 60g