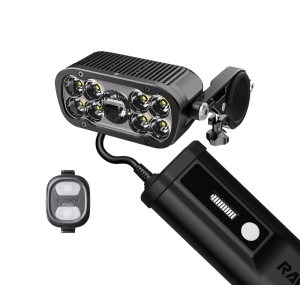 Ravemen XR6000 Wireless Switch Control MTB Front Battery Pack Headlight (6000 Lumens)
Supplier: Ravemen
Manufacturer Part No: XR6000
Unit: Each
Added: 9/9/2023

Stock is not reserved until you submit your order.

Images are for illustration purposes only.

Pro-forma accounts: please call the office with payment details once you submit your order.

Please login to view stock information
Wireless Switch Control Headlight
With the XR6000 headlight, the night will never be a reason to stop you from enjoying the ride. Giving out 6000 lumens at the highest output, it will light up any trail and let you see clearly and safely no matter how dark the trail is. The durable design ensures it is made for the most challenging roads. With the wireless switch and multiple brightness levels, the light is super easy to control and versatile for various conditions.
High/low beams optical design with 9 high-efficiency white LEDs: Engineers optical lens to realise an ideal balance between close-range floodlight and spotlight, giving you better peripheral vision and helping you see much further
Max 6000 lumens output in HiLo beam mode: With just one click, the headlight can emit 6000 lumens of light, illuminating any trail in front of you.
Wireless remote switch: Turn on/off the light and change brightness levels safely without releasing the grip; single click to activate maximum output for signalling or emergency lighting
High-capacity battery pack with 18W fast charging: Built-in 4*21700 (3.6V/4000mAh) batteries to support your long adventure or racing; with 18W fast charging, it will only take 4.5 hours to have a full charge
Easy-to-read OLED display: Display the remaining power of the battery pack in a straightforward way
Back-up powerbank with 18W fast discharging: To charge your phone or other digital devices easily when in need (DO NOT use this function when raining)
Waterproof headight and water-resistant battery pack: Sealed against water design to let you ride confidently when in heavy rain or on muddy roads
The whole aluminium body with aero-dynamic vertical headsinks: Dissipate heat much more effectively and maintain optimal output for longer periods; Also with built-in thermal control protection circuit
Solid hard-anodized aluminium handlebar mount: Secure your light safely and have no fear of ups and downs when riding on the trail. Compatible with 31.8mm and 35mm handlebars in diameter (Note: check and tighten screws of the mount before each ride for complete secureness)
Specially customised connector and robust high-quality copper cable: Ensure a reliable and stable connection for your light and minimise the energy loss to improve the performance and longevity of the device
Product Features
Anti-glare lens wtih T-shaped beam, providing close-range floodlight and long-distance spotlight for road cycling, providing no dazzle for other road users
HiLo Beam System - designed to simulate automotive headlights with far-reaching high beam and low beam for night mountain bike riding
Wireless remote switch with instant max output and brightness adjustment button to control the light easily
OLED screen to display the remaining power of the battery pack
USB-C port with fast charging and discharging (18W) for your portable digital devices
Durable aluminium body for better head dissipation
Intelligent thermal management circuit to prevent overheating of LEDs
Technical Specifications
LED: 9*high-efficient white LEDs
Battery: 8000mAh/7.2V rechargeable Lithium-ion battery
Weight: 240g (headlight) / 385g (battery pack)
Material: Headlight and the handlebar mount are made by aluminium with Mil Type III hard coat anodizing; the battery pack is made by durable plastic