PRODUCT CODE: 30672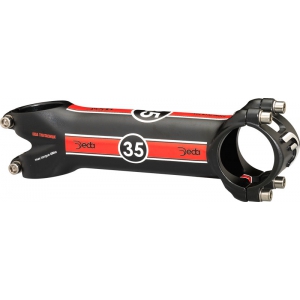 Deda Trentacinque Stem in Matt Black 35mm 90mm

Stock is not reserved until you submit your order.

Images are for illustration purposes only.

Pro-forma accounts: please call the office with payment details once you submit your order.

Please login to view stock information
The diameter is the main factor of magnitude in the moment of inertia of the section of the handlebar. The larger diameter allows for better hand and lower specific pressure, resulting in reduced hand fatigue. The Trentacinque is a 3D 2014 alloy forging with different wall thicknesses. Use of the Trentacinque gives an entirely different and completely new feel while riding.
Handlebar Diameter: 35mm
Angle: 82deg
Lengths: 90, 100, 110, 120 or 130mm
Weight: 136g (110mm)
Finish: matt black