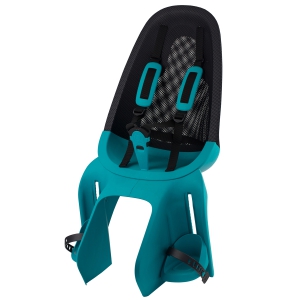 Qibbel Air Rear Child Seat Pannier Rack Mounted in Black/Turquoise
Supplier: Qibbel
Manufacturer Part No: Q903
Unit: Each
Added: 8/4/2019

Stock is not reserved until you submit your order.

Images are for illustration purposes only.

Pro-forma accounts: please call the office with payment details once you submit your order.

Please login to view stock information
Qibbel. A Qibbel modern bike seat is a genuine high-quality product made in Holland. The seat has been designed in the Netherlands and is made by the Dutch bicycle parts and accessories manufacturer Widek. Fully assembled with attachments and styling set. These seats can be mounted as a unit on the bike. The mounting on the bike is faster. We are offering a front & rear child seat with optional fittings.
Rack mounted childseat
Adjustable footrests - no tools required!
Strong bucket seat
Available in black (code 18105) or black/turquoise
Water-repellent
For children between 9 months to 3 years old
Up to a weight of 15kg