PRODUCT CODE: 86522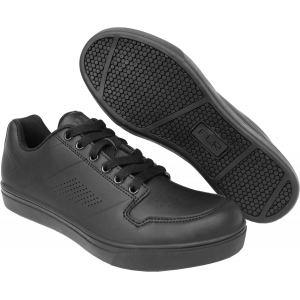 FLR AFX Active Flat Line Trail Shoe in Black
Supplier: FLR Shoes
Manufacturer Part No: AFX ACT BLK 44
Unit: Pair
Added: 8/1/2018

Stock is not reserved until you submit your order.

Images are for illustration purposes only.

Pro-forma accounts: please call the office with payment details once you submit your order.

Please login to view stock information
The All New Flat Shoe Collection
Designed alongside current 3 times vice World champion of MTB trails, Aurélien Fotenoy, FLR's new line of flat pedal shoes and the AFS Outsole were engineered to deliver superior performance, durability and outstanding grip for extreme riders into enduro, all-mountain, downhill and dirt jumping.
Using the latest in shoe technology, FLR have built versatile flat pedal shoes for any type of rider or need.
AFS Outsole
The AFS Outsole delivers ultimate riding control and grip for a flat pedal shoe. FLR used the latest technology to specially develop the STKgrip rubber compound. The sticky rubber surface maximizes pedal contact and pedal power transfer. It is built to be durable against rugged terrain and absorb trail vibrations. Its special sole design and tread pattern specifically enhances control and securely holds your foot on the pedal, yet allows for release during quick maneouvers.
AFX Flat Shoe
The AFX (Aurélien Fotenoy-X) delivers excellent performance, grip and comfort for long rides out on the trail or for grabbing a beer with friends. Its casual look and laid back design will catch anyone's eye, and even better - it's more durable than a regular trainer.
Featuring a low profile design with quick drying synthetic upper and perforated holes, the AFX maintains pedal contact and improves breathability and cooling for when you ride on a warmer day.
The AFS outsole offers the rider control and grip for a great flat pedal riding experience with specially engineered STKgrip rubber. The sole design and tread pattern were designed for true durability against rugged terrain.
Footbed: molded EVA, breatheable and removable
Touring last
Upper: Breathable, high-quality synthetic upper
Breathable lining
Breathable perforated tongue
Perforated holes for ventilation