PRODUCT CODE: 54546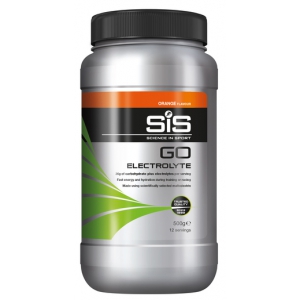 SIS Go Electrolyte 500g Tub. Flavour: Orange

Stock is not reserved until you submit your order.

Images are for illustration purposes only.

Pro-forma accounts: please call the office with payment details once you submit your order.

Please login to view stock information
Why should you take SIS Go Electrolyte?


It is well documented that both carbohydrate depletion and dehydration are two of the major causes of fatigue in endurance exercise. In addition to ensuring optimal carbohydrate stores and hydration status before exercise, delivering additional carbohydrate and fluid during exercise is known to improve performance, race times and delay the onset of fatigue. Common mistakes made by endurance athletes are to consume too much carbohydrate at inappropriate concentrations (such that it can not be readily absorbed) or too little carbohydrate at low concentrations which although will increase fluid delivery will compromise carbohydrate delivery. As such, SIS GO Electrolyte represents a product that is formulated according to scientific research so as to achieve the right balance of both carbohydrate and fluid delivery. SIS GO Electrolyte therefore represents a strategic approach to offset the negative effects of carbohydrate depletion and dehydration on your performance.
Helps fuel and hydrate during training or racing
36 grams of carbohydrate per 500 ml serving
High in sodium to promote hydration
Delivers energy and fluid fast
Easily digestible and quick supply of carbohydrate
Quick delivery of electrolytes (such as sodium)
Provides optimal hydration