PRODUCT CODE: 37784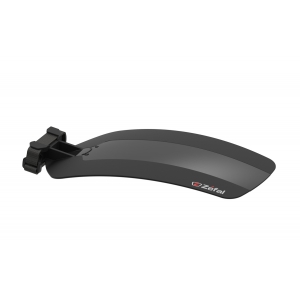 Zefal Shield S20 Rear MTB Mudguard
Supplier: Zefal
Manufacturer Part No: 2563
Unit: Each
Added: 2/10/2018

Stock is not reserved until you submit your order.

Images are for illustration purposes only.

Pro-forma accounts: please call the office with payment details once you submit your order.

Please login to view stock information
The Shield S20 is a light, discreet mudguard designed for MTB bikes. Its fibre-glass reinforced material ensures the Shield S20's solidity and durability. Its integrated mounting system makes it easy to install on all types of standard saddle rails. A strong self-adhesive strap reinforces the hold of the Shield S20, protecting your backside from splashes.
Light and discreet fitting at just 67g
Quick mounting and removal
Double locking system under the saddle
Compatible with all standard-rail saddles
Fibre-glass reinforced polypropylene material
Dimensions: 280 x 94 x 115mm
Suitable for 26", 27.5" or 29"
Saddle-rail mounting
Max. tyre width 2.8"