PRODUCT CODE: 37687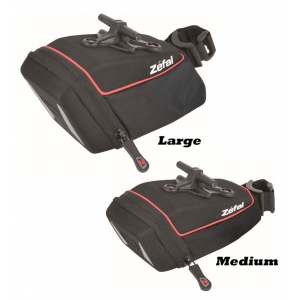 Zefal Iron TF Semi-Rigid Saddlebag (T-Shape Seatpost Fitting) Large 0.8L
Supplier: Zefal
Manufacturer Part No: 7030
Unit: Each
Added: 10/12/2013

Stock is not reserved until you submit your order.

Images are for illustration purposes only.

Pro-forma accounts: please call the office with payment details once you submit your order.

Please login to view stock information
Semi-rigid saddle bag, the Iron Pack TF is aerodynamic with EVA shells to ensure the protection of your belongings. Its wide opening guarantees an easier access and an elastic band inside maintains the content. It has the T-Fix mounting system.
Medium
Semi-rigid saddlebag
Easy access, wide opening bag
Water and moisture repellent
T-shape seatpost fitting
Extra tough 840 D 2 EVA hard shell material
Reflective for safety
Capacity: 0.6L
Weight: 145g
Large
Semi-rigid saddlebag
Easy access, wide opening bag
Water and moisture repellent
T-shape seatpost fitting
Extra tough 840 D 2 EVA hard shell material
Reflective for safety
Capacity: 0.8L (big capacity)
Weight: 160g