PRODUCT CODE: 35511/Bk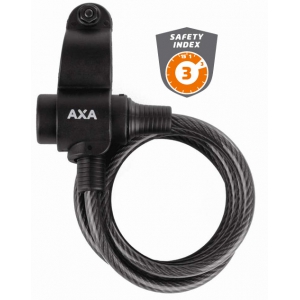 AXA Rigid 180 / 8 Cable Key Lock
Supplier: AXA Bike Security
Manufacturer Part No: 59531895SC
Unit: Each
Added: 24/2/2015


Stock is not reserved until you submit your order.

Images are for illustration purposes only.

Pro-forma accounts: please call the office with payment details once you submit your order.

Please login to view stock information
Basic safety at short term parking
Automatic locking mechanism
Delivered with 2 keys
Universal bracket for easy mounting
Length 180cm
Diameter cable Ø8mm
Plastic cable cover which protects against damage
Weight: approx. 380g
AXA Bike Security
AXA Bike Security is inextricably linked with cycling culture. For more than 110 years the company has done everything it can to optimally protect cyclists and bicycles. As a real bicycle fan, AXA Bike Security knows exactly what cyclists need in order to be safe while cycling. AXA's engineers inject the latest requirements and developments into user-friendly, sustainable products. Thanks to their own production facilities in Europe, AXA can always guarantee consistent, high quality. This is how AXA contributes to the safety and cycling pleasure of the world's growing group of people who prefer the bicycle as a healthy and sustainable method of transport.
Naturally AXATop Quality and 10 Years Guarantee
- Only European components and cylinders
- Made of galvanised steel for greater resistance to corrosion
- Controlled hardening process, stronger and more consistent
- Long-lasting grease instead of thin lubricating oil
- 10 year guarantee: longer than the average life of a bike
AXA Service
More Service for You and Your Customers
- Online key service guarantees new keys on site within 5 days
- Comprehensive sales support
- High levels of delivery performance and flexibility