Please Note: Whilst the majority of orders will be delivered on time, some may experience a short delay due to volume of business.
Thank you for your understanding.
PRODUCT CODE: 35431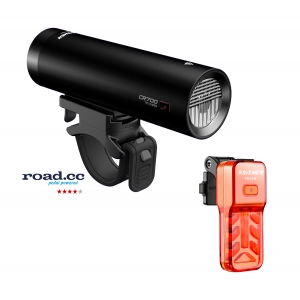 Ravemen CR700 (700 Lumens) / TR30M (30 Lumens) USB Rechargeable Twinset
Supplier: Ravemen
Manufacturer Part No: LS-CT03
Unit: Set
Added: 6/6/2020

Stock is not reserved until you submit your order.

Images are for illustration purposes only.

Pro-forma accounts: please call the office with payment details once you submit your order.

Please login to view stock information
Ravemen Lighting. Ravemen is derived from their passion for bike riding and concern for bike riders as well as others' safety. Coming from different areas of the bicycle industry and being biking enthusiasts, engaging in night riding is quite normal for us. To our regret, most of the high-output bike lights on the market have no anti-glare capability, which is dangerous to oncoming traffic, and as a result places them at great risk.
In fact, many people have had the experience of being dazzled by high lumen bike lights, and Ravemen believe that every rider also tries not to disturb others while enjoying the fun of riding. Based on such perception and being inspired by automotive headlights, the idea of applying a similar design to bike lights came into their minds. Through the entire process of conceiving, designing, proofing, testing and adjusting, they finally made it! That means the world's first bike light with a simulation of the design of automotive headlights is available.
Combining high quality and durable material with innovative design, along with the concern for riders and others' safety which has been fused into their genes, Ravemen promise their products will be not only reliable and easy-to-use to improve your riding experience, but also a trusted companion that will earn you respect from others.
CR700 Front
DuaLens optical designed low beam, providing anti-glare broad light for commuting
No dazzle for oncoming riders and pedestrians
Wired remote button to change brightness levels without releasing the grip
Built-in battery indicator and charging indicator
Micro USB charging port to charge the light easily
Durable anodized aluminum body with better heat dissipation
Quick release design for easily slide in/out
Compatible with handlebar from 22.2mm to 31.8mm diameter
Your ideal compact commuting light with output of 700 lumens
Side visibility function, which is helpful to increase the visibility of the light and the cyclists
Recharge capability while the light is being used, this function will enable users to extend the run time of the light
Technical Specifications
LED: 1*CREE XM-L2 with a lifespan of 50000 hours
Battery: 2600mAh/3.7V rechargeable Lithium-ion battery
Dimensions (Headlight): 101 x 29 x 32mm
Weight (Headlight): 116g
Materials: The main body is made by durable anodized aluminum; other parts are made by durable plastic
TR30M Rear
Crystal Pure Red Rear Light. Featuring transparent light body and special internal reflecting patterns, TR30M gives out 360 degree beam with max 30 LED lumens, providing much better rear and side visibility to increase rider's safety. It is lightweight, easy to use and versatile with quick release clamp mount.
Providing 360-degree beam angle
Transparent pure red light body
Special internal reflecting patterns
Convert dual LEDs point lights into panel lighting alike, enhancing the rear and side visibility and increasing rider's safety
Brighter and larger side visibility
Mounting the light in a nearly horizontal position, the light body is more obvious than the traditional vertical way
Adjust the angle for daily riding with max visibility or for group riding without dazzling following riders
Product Features
Dual Highly efficient LEDs with max 30 LED lumens
Transparent light body with 360-degree beam angle
Special internal reflecting patterns, enhancing the rear and side visibility and increasing rider's safety
Mounting angle adjustable for daily riding with max visibility or for group riding without dazzling following riders
Quick release design, compatible with round and aero seatposts
Micro USB charging port, compatible with most phone chargers
Built-in battery indicator and charging indicator
Intelligent memory circuit remembers the last used brightness level and mode when turned on again
Tech Specifications
LED: Dual highly efficient LEDs
Battery: 200mAh/3.7V rechargeable Li-polymer battery
Dimensions (light unit): 25mm (L)*21mm (W)*62mm (H)
Weight (light unit): 22g
Mount size: compatible with φ 24-36mm seatpost
Design and specifications are subject to change without notice